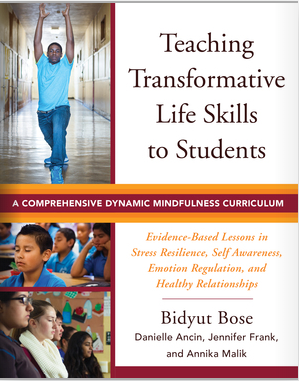 A classroom-ready program of evidence-based lessons in:

Stress resilience
Self-awareness
Emotion regulation
Healthy relationships
Transform school and classroom climate, increase teacher sustainability, and build invaluable life skills in students with four ready-to-implement units incorporating mindful movement, yoga postures, breathing techniques, and more. The evidence-based and trauma-informed Transformative Life Skills (TLS) curriculum offers educators 48 scripted, 15-minute lessons designed to require minimal preparation and fit neatly within the busy school days of a single academic semester. Recommended by CASEL, it benefits all five core competencies of Social and Emotional Learning. 280 illustrations.
This book is the definitive K-12 curriculum for DMind practices. Lesson plans integrate mindful movement, breath regulation, and focused attention, for developing the Whole Child, enabling academic, social and emotional learning.

***Please keep in mind, when purchasing any media mail products (DMind Curriculum, DMind Lesson Summaries for K-12, K-2 Curriculum for Younger Children, Workbook for Assimilation and Application, Bilingual Mini Poster for Emotion Regulation) along with non-media mail products, the shipping method will not include the media mail shipping option. If you would like to ship your media mail at the media mail rate, please create a separate order with media mail products only. Media mail is a low priority class of shipping service. 
Please contact us at store@niroga.org for: 
Quantity discounts for purchases of 10 and above 
Orders requiring shipping outside of the U.S. (please include your shipping address in the email)